Reviews
Thrive Landscape Management has been providing top notch landscaping, outdoor living and lawn maintenance services throughout Harvey, New Orleans and surrounding Cities in Louisiana for decades. Our highly satisfied customers are the life blood of our business and we strive to provide complete satisfaction on every project. From concept to completion, we work with you to create distinct, quality outdoor spaces that fit your lifestyle and vision. Our commitment to quality work and exemplary customer service are the foundation of our business success. Below are just a handful of positive reviews and testimonials from our esteemed customers.
Also feel free to see what others have to say about our expertise and reputation and why we are one of the top landscapers in New Orleans, LA, by clicking here >>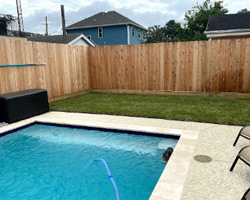 Derek Crow
5 Stars Review
| May, 2022
I was having trouble getting lawn companies to call me back about putting Sod down around a newly installed pool and patching my front lawn. I called Brad and got his voicemail. It asked me to text him. I sent him a Text message with my info and he called me back. The same evening he sent someone out to measure my lawn. The next Wednesday, my lawn was repaired, new sod put down and rocks put along the back of my pool. My yard is no longer a mud pit. Thank you Thrive for fixing my lawn and doing it so quickly.
Jared Juneau
5 Stars Review
| March, 2022
Thrive Landscape has been taking care of my yard for a little over a year now. I recently trimmed some palm trees and left the debris in the backyard. I planned on picking up the mess when I got a trailer. The guys at Thrive arrived for weekly maintenance and decided to pick up the mess themselves! Great service! This was something that most of your local landscaping companies out there wouldn't ever do! Highly recommend! THANK YOU THRIVE LANDSCAPE!
Katrisha Loupe
5 Stars Review
| January, 2022
My yard never looked this good until Thrive got a hold of it!!! Thank you again!
George Vulevich
5 Stars Review
| September, 2021
I met Brad at a job we both worked on a few moths ago. His work was great and I was very impressed with the way he dealt with the client. After that job I've shared his contact with three other clients. Everyone has had nothing but great things to say. He's recently completed work at my own personal residence and once again has completely knocked it out of the park. Great guy and has become a great friend!
Michelle Villatoro
5 Stars Review
| March, 2021
Brad with Thrive Landscaping is an expert in his field. The level of service that we received from this company was top notch. Thrive Landscaping will be my go to company for all of my outdoor projects in the future and I will confidently refer them to my friends and family.
Brandy Lepine
5 Stars Review
| August, 2020
I used Thrive to help me get my yard and hedges under control. 3 very nice guys showed up and in no time had my yard looking fabulous. It's obviously this hard working crew enjoys what they do and it shows in their work. I absolutely recommend Thrive and will be using them again! Thank you Thrive!
Thomas Benge Jr
5 Stars Review
| May, 2020
I have been referring clients to Thrive Lawns for over a year now. When passion and professionalism come together great things happen! Brad is a customer service professional and has a passion for beautiful landscape and outdoor living. If you need one flat of seasonal flowers to an entire property renovation the team at Thrive can provide the best craftsmanship and service in the New Orleans Metro area.
Lori Pieno
5 Stars Review
| December, 2019
I have been using Thrive of Louisiana for 9 1/2 years now. They are by far the most outstanding lawn care service. The employees are hard and diligent workers, complimented with a great work ethic. The owner, Brad Shaffer, does his extreme utmost to make sure all jobs are completed to my satisfaction. I admire his hard work and dedication and highly recommend his services.
DC Tiger
5 Stars Review
| August, 2019
The team at Thrive are professional and creative. I had my own view of what I wanted done to upgrade my yard, and through their design options I now have a more beautiful view. A job well done!
Brad Swortzel
5 Stars Review
| September, 2019
The Thrive staff is very friendly and polite. If you want to work with a professional landscaping company, Thrive is the go to in the area! I couldn't recommend them enough!
Duane Hunts
5 Stars Review
| July, 2019
Professional and very responsive. It's refreshing to find a business such as this with an honest approach and the integrity to do the job right without overinflated pricing. Did an amazing job fixing someone else's poor workmanship with an irrigation system!
Christy
5 Stars Review
| May, 2019
It's not very often you come across a contractor that is knowledgeable, fair AND honest. I can say this without hesitation about Brad Shaffer. I was in a horrible predicament with my irrigation system due to another company's inadequacies. Not to mention they were trying to gauge my eyes out. Brad took over and within days my irrigation was in working order, and perfectly. I also found out during this process that he DOES IT ALL...outdoor kitchens, landscaping, pool work, lighting...you name it! I'm fully confident that I do not have to look any further for my future outdoor jobs we are in the process of planning. You just cannot beat the quality of service, integrity and and pricing that Brad offers!
Connie Brennan
5 Stars Review
| December, 2018
A big shoutout to your crew! They did an amazing job today with a very wet lawn and couldn't have been nicer!
Zachary Mouton
5 Stars Review
| December, 2018
We had Saint Augustine Grass that was always diseased. They scraped out the old grass and filled and leveled the sloped yard and then planted Zoysia grass. Great job!
Wayne Dupre
5 Stars Review
| November, 2018
Great guy and he does really nice looking work!
Tommy O'Connor
5 Stars Review
| July, 2018
Some of the best people I have ever met... Brad is the best landscaper around!
Royal Adams
5 Stars Review
| June, 2018
Great people to do business with! They really know their stuff and take pride in what they do.
Leslie Meyers
5 Stars Review
| April, 2018
Brad's work is top notch. He is reliable and responsive and their pricing is highly competitive. Look no further!
Scott Stone
5 Stars Review
| March, 2018
This company went above and beyond to make sure our gardens and trees were properly installed using the right native plants that have made our outdoors so colorful and beautiful. Highly recommended.
AREAS WE SERVICE IN NEW ORLEANS:
AREAS WE SERVICE IN MISSISSIPPI: