Superior Landscaping Services in Louisiana and Mississippi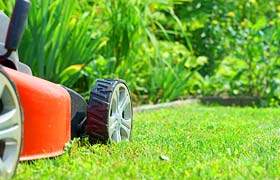 There is simply no comparison between a minimally maintained lawn and a lawn under the care of a Thrive professional. Founder, Brad Shaffer understands the unique difficulties associated with Deep South lawns. He and his team have the knowledge to correctly assess a residential or commercial lawn's health and prescribe a specific program for the care they need to truly flourish.
Year-round Thrive programs begin with a comprehensive soil analysis, followed by carefully prescribed and monitored fertilizer, herbicide and insecticide applications. As a premier provider of quality lawn, shrub and tree care, Thrive works with clients until they are completely satisfied.
Your landscaping or gardening project is always in good hands with our landscapers. Our service includes all project phases from planning to maintenance. In the process, we always keep your personal wishes and needs in mind.
See for yourself just how professional and creative our work is!
Do you want a free consultation? Make an appointment for an on-site consultation without any obligation by phone at 504 263 3588, or use our contact form. Schedule a free Thrive Lawn Analysis today 504-263-3588.