About Us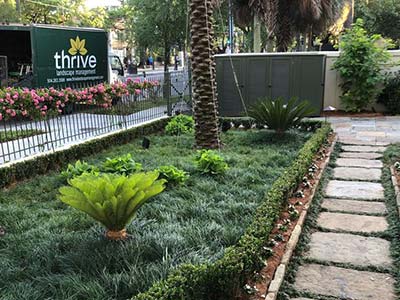 Finding the right landscape contractor can be a challenge. Thrive Landscape Management is a professional landscaping company that has been serving New Orleans and surrounding areas for well over a decade. We specialize in landscape design, landscaping, lawn maintenance, irrigation and lawn fertilization for residential and commercial properties.
Owner and master landscape designer, Brad Shaffer, has many years of experience working as a Golf course superintendent at some of the most prestigious golf courses in New Orleans. Brad proudly brings his vast landscaping experience to homeowners and businesses alike, which guarantees your project will be designed and installed utilizing his first rate knowledge and expertise.
Lawn science in harmony with nature
Thrive is the area's premier source of quality lawn care, including tree and shrub care. Our professionals will take the time to work with each client until they are completely satisfied. It is not uncommon to find Brad on the ground alongside other members of the Thrive team, working to help nurture a beautiful, thriving green lawn.
We develop individual solutions for you
Do you need help landscaping or gardening? Do you have a small private project or large public one? Do you want an idyllic garden or majestic grounds? We can make your plans come to life and your wishes come true!
When developing customized solutions, we combine creativity with realistic planning and due care in the implementation phase. In the process, we are guided by your individual wishes, needs and interests, as well as the existing vegetation, topography, house architecture and the landscape's character. The result is a harmonious concept.
Where we excel
Expert consultations
Creative ideas
Careful planning and implementation
Meticulous organization of the construction process
Individual selection of plants
High-quality designs
Reliable maintenance
Now Serving Mississippi
Thrive Landscape Management is now providing professional landscaping, outdoor living and pool building services to esteemed customers in certain Cities in Mississippi. From Bay St. Louis, Waveband, Gulfport to Biloxi, we are expanding our service areas in an effort to cater to an ever-growing demand from homeowners in Mississippi.
Do you want an individual consultation?
Make an appointment for an on-site consultation without any obligation by phone at 504 263-3588, or use our contact form.
AREAS WE SERVICE IN NEW ORLEANS:
AREAS WE SERVICE IN MISSISSIPPI: